Slice of Life Gallery, Vancouver BC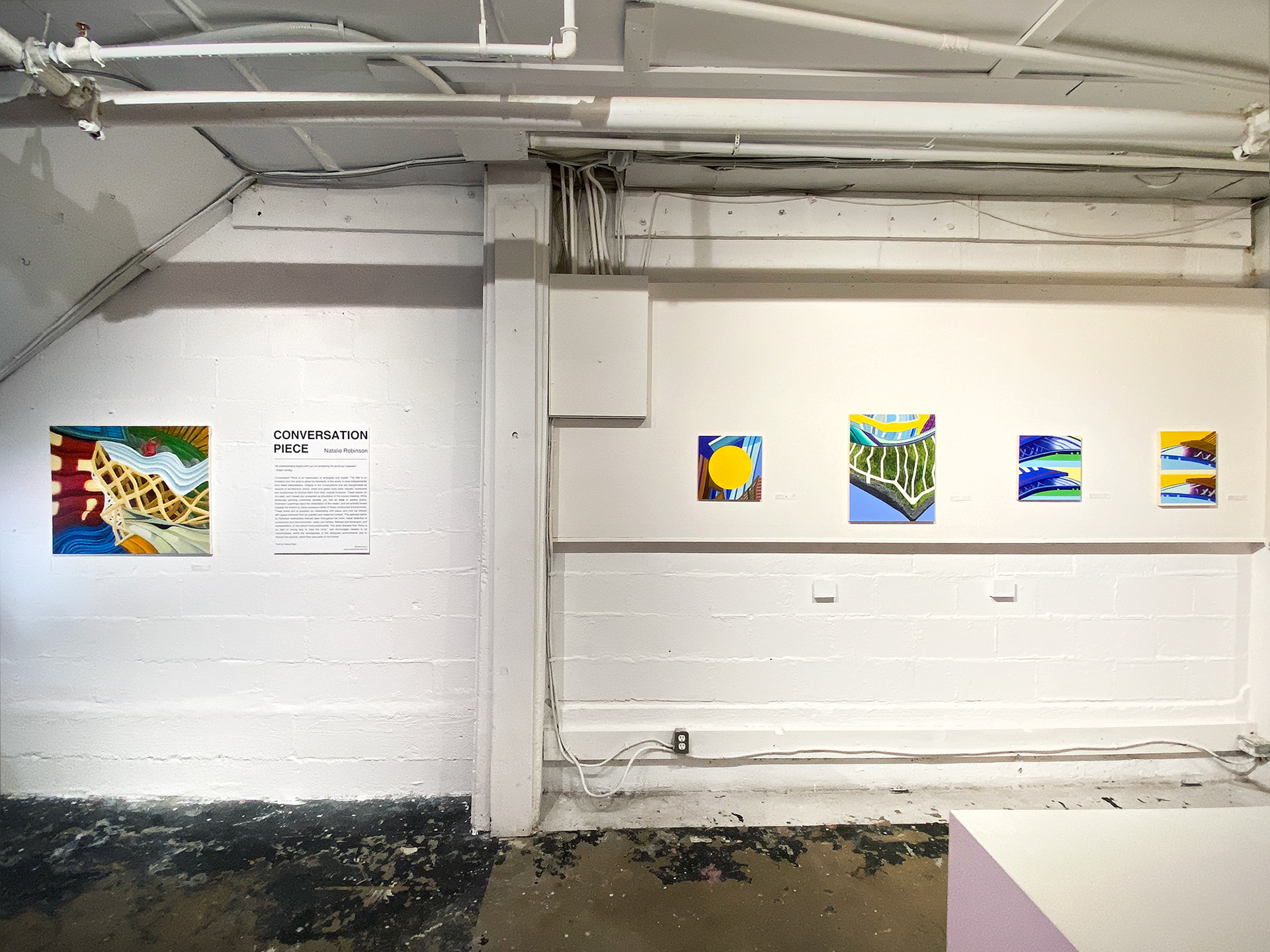 Conversation Piece

 is an exploration of ambiguity and duality. The title is an invitation from the artist to allow the familiarity of the works to exist independently from literal interpretation. Objects in the compositions that are recognizable as aspects of architecture (wood, metal and glass) have been warped, recoloured and transformed to divorce them from their original locations. These places do not exist, and instead are presented as phantoms of the source material. While landscape painting commonly situates you into an ideal or serene space, Robinson's paintings reject the inhabitation of the viewer, and are actively hostile towards the instinct to place ourselves inside of these constructed environments. These works aim to question our relationship with place, and how we interact with space removed from its usability and relational context. This selected series by Robinson exemplifies themes seen throughout her work; visual didactics of construction and deconstruction, reality and fantasy, flatness and dimension, and representation of the almost incomprehensible. The artist stresses that "there is no right or wrong way to view the work," and encourages viewers to sit uncomfortably within the strangeness of the disfigured environments and to discuss the visceral, rather than speculate on the formal.
This exhibition considers the connection between memory and architecture, stemming from a recent rezoning of the land which the artist's home sits on. This series attempts to negotiate the inevitable destruction of space, and considers what this means for the memories and nostalgia that are harboured in one's living quarters. Each painting hopes to present itself as kinetically charged, shifting from an active to a temporarily paused state, as if frozen in time.

Through the relationship between interior and exterior landscapes, the paintings play within the duality of construction and deconstruction. Negative spaces seen in the works Obstruction No. V, Vl & Vll, are echoes of past memories, while the flourishing underlying colours emphasize the beauty in the ephemerality of physical space. Newly built forms and structures emerge, while the voids from past ones are seen through intentional gaps. A feeling of confusion and curiosity is suggested through each meandering composition.
Gibsons Public Art Gallery, Gibsons BC
Capture Photo Festival 2022
The James Black Gallery, Vancouver CA
Distortions

 is a painting exhibition that concludes
Darius Kian
and Natalie Robinson's month-long pod residency with The James Black Gallery. In their new works, they explore a process of sourcing images, heavily manipulating them with digital tools, and then reforming them as oil paintings. Each of their series reflect this transformation from recognizable forms to augmentations that depict a personal reality. Darius and Natalie present these paintings of their altered realities in an effort to better understand them, and connect with others who feel the same dissatisfaction with their own perspectives.
Michael O'Brian Exhibition Commons, Vancouver CA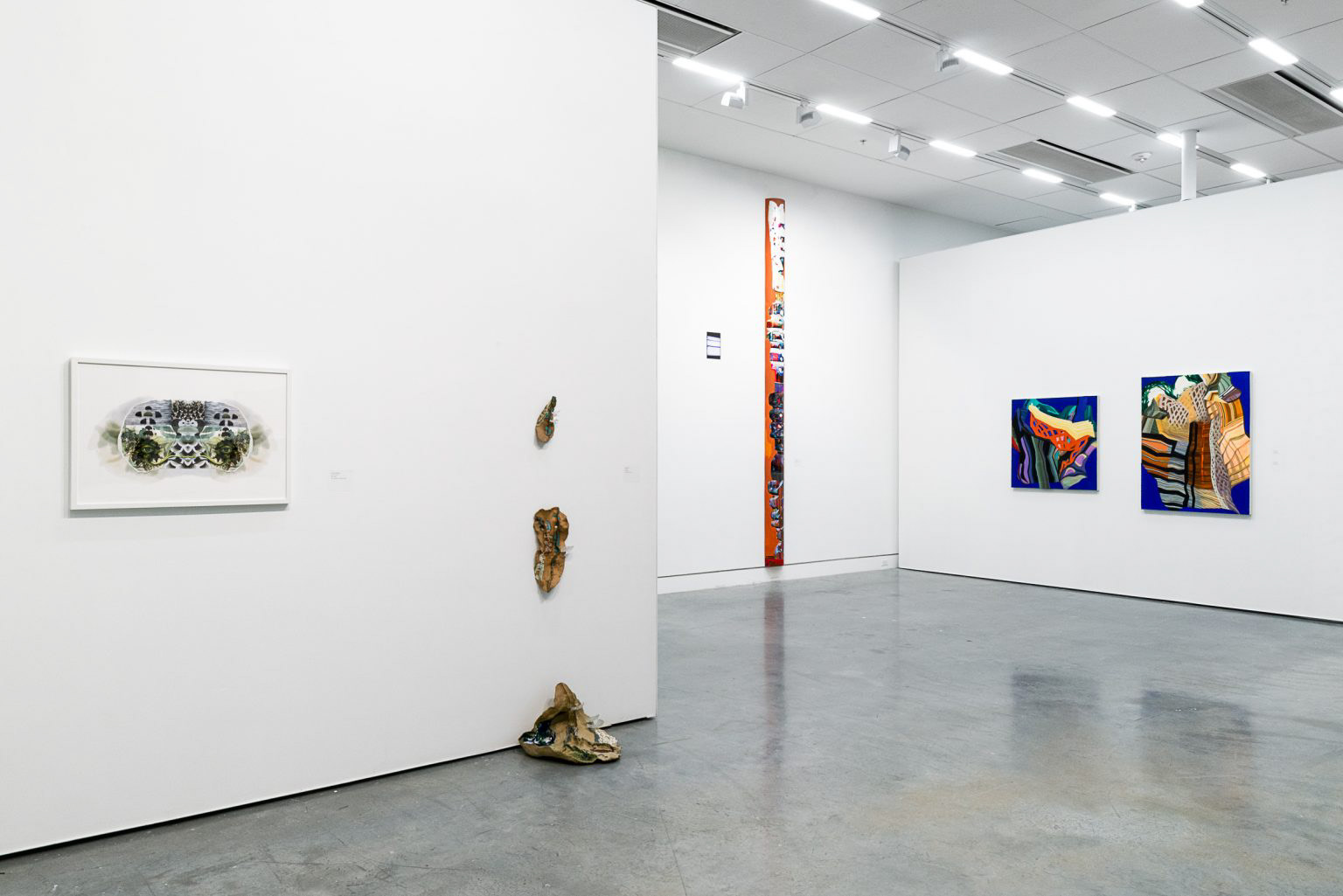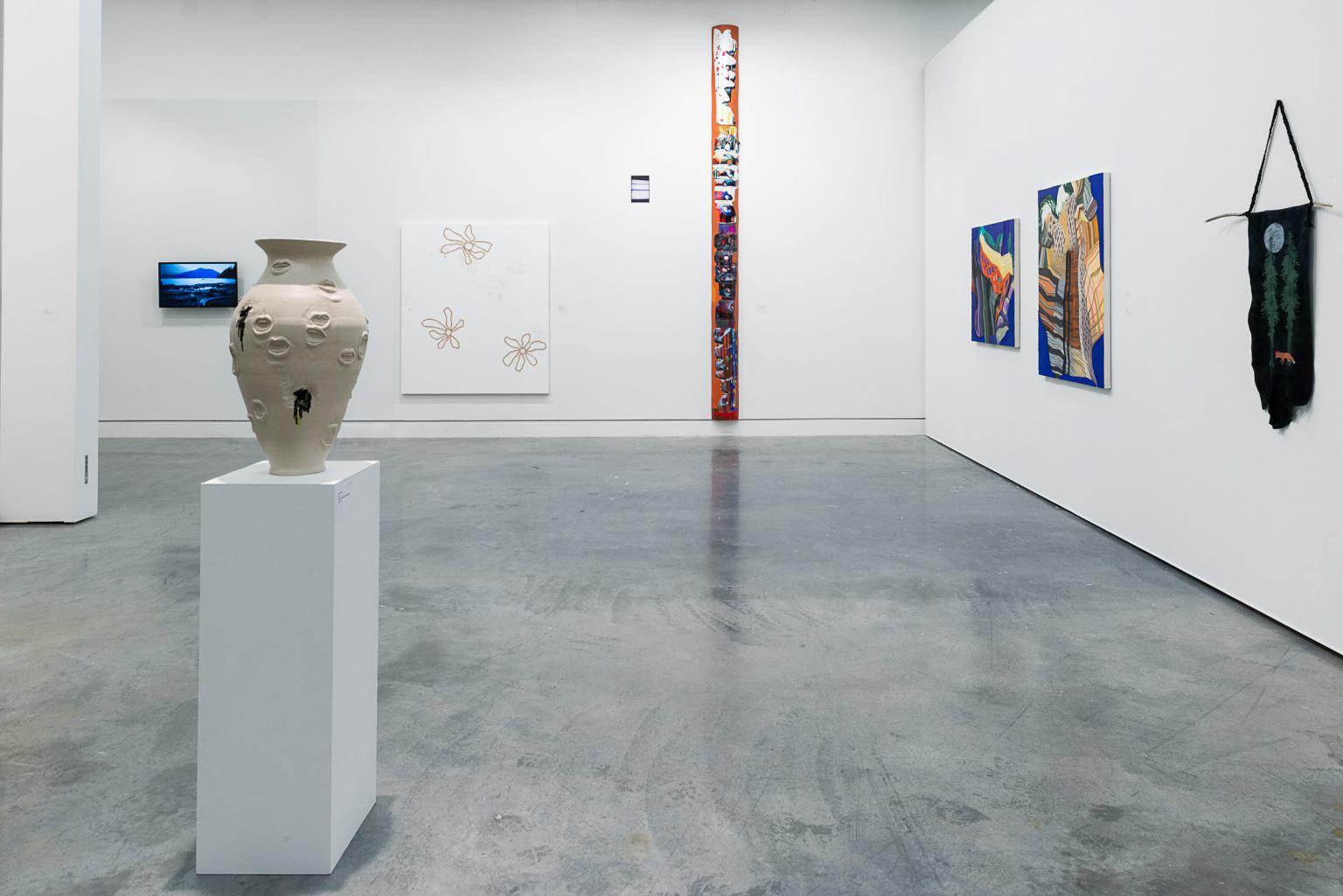 Installation view from the Emily Carr University 2021 Graduation Exhibition. Photos by Michael Love.
New Space, Old Place: Meditations on the Everyday
Faculty Gallery, Emily Carr University, Vancouver CA
This group show features work by painters Sophia Boutsakis, Izzy Data, Talia Malkowich and Natalie Robinson. New Space, Old Place: Meditations on the Everyday challenges the overfamiliar by abstracting space, and in doing so, reveals the unseen that is explored through the medium of paint.
Deer Lake Art Gallery, Burnaby CA
Liminal Home

draws inspiration from the domestic space of home.  In a time of regular self-isolation, the safe space of home has become more important than ever.  In this exhibition, familiar space is taken, twisted and made strange through the manipulation of imagery to produce new, unfamiliar environments to situate oneself in.  Photos of household rooms are altered and transformed into a new reality. 

Liminal Home

lies on the threshold of the intangible - surreal-like spaces emerge from the very real and the very quotidian, and are made into the unrecognizable.